The Company export all types of Food Products such as Oil Seeds, Spices, Grounded Spices and Food Grain in all types of packing to all parts of the world and lays strong emphasis on TIME and QUALITY.
The company is now in the experienced hands of Mr. Khushwant Jain & Mr. Ganpat Jain.The two very young and energtic enterpreneurs are associated with the company's functioning since the very inceotion of the export business.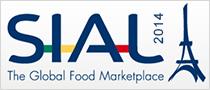 We are Exhibiting SIAL Paris-14 Being held at Paris from 19.10.14 to 23.10.14 India Pavilion (Hall No.3-4) Stall No.38-174/3, Paris Nordvillepinte France.